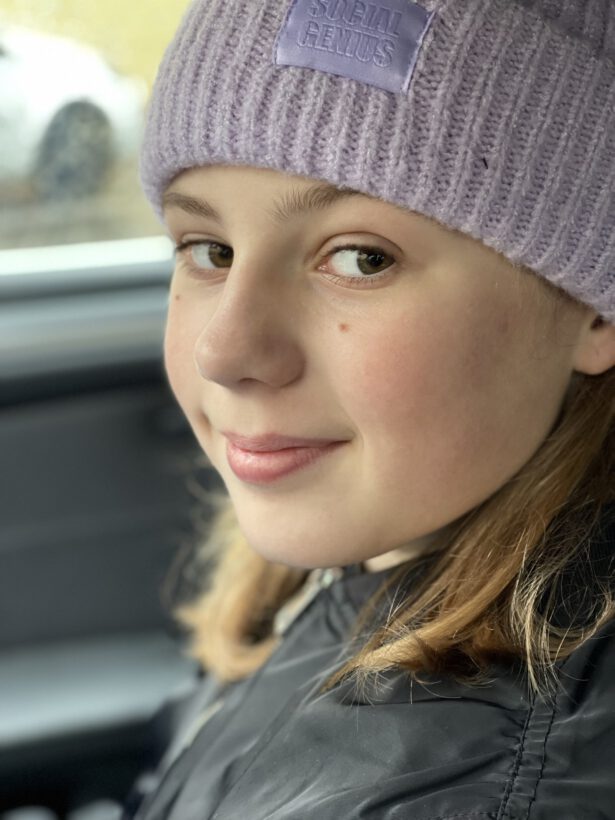 2021-12-08
Child not bride
Written by Tilda Jivenius

"Her shoes looked so much smaller than his 12 sizes bigger. He was at least a foot taller than her and looked much older. The only thing she had that was more of was her hair. The long dark hair that the mother had curled just an hour ago. Hand in hand they went forward. Hand in hand they walked together. You would think she was 19 but a little shorter than everyone else. Yes, she was a little shorter than everyone else, but also only 13. It can't be so terrible, she thought then. There are 13-year-olds who work 10 hours a day in large factories. It can't be that terrible. That thought would come back to mind several hundred more times. He was 31 and she was 13. It can't be that terrible. It can't be that terrible. Think positive, she told herself. Why would dad do this. Why would mom do this. It wasn't fair. As she and he walked there hand in hand, no one seemed to see what she saw. A big grown man and a little girl. Everyone saw her as a woman now, everyone except herself.
The ring was too big and it just fell off. She had shoe chafing on both heels. The fine dress was tightly cinched at the waist. Had it not been in this particular context that the dress was used, she would have thought it was beautiful and would do anything to wear it. But not today. Today was the wrong occasion, wrong time and with the wrong man. A man 18 years older who would be hers. Hers even if she didn't want it. It can't be that terrible.
Before the big thing was to happen, the two stood in a room. Just the two of them in a room. A cold big room that made you have a coughing attack every four minutes. A cold big room that made you feel like a tiny, tiny ant. She felt like an ant compared to him but when she told her father he was furious. You should not speak ill of your future love, this man you will live with for the rest of your life. Till death do you part. Till death do you part. Him and his big shoes. It can't be that bad, she thought... could it?
Went and walked towards the altar and that was it. There is nothing to be done, the mother had said.
- Is it my fault?
If she hadn't been sitting so close to her mother, she wouldn't have heard her, she whispered so quietly.
- What then? Says the mother.
- That I'm getting married now.
Her voice is so small, the words are more warmth against the mother's neck than something said out loud.
- No, of course not, why would it be your fault?
- I don't know, answers the 13-year-old girl, who will soon be married.
The girl's tears wet the mother's white blouse. They run down the cheeks like falling raindrops. Within her was a longing to just cry out for ages and ages. But another thought that crossed my mind was that it can't be that terrible. It can't be that terrible. As the tears flowed and flowed, ruining the makeup, the sentence replayed in the 13-year-old girl's head. It can't be that terrible. It can't be that terrible. As therapy.
Small brown eyes peeking out from behind a white and glittering veil. Eyes that should sit on the highest point of the sky because they are so beautiful. Eyes looking straight into a pair of other blue eyes. But these eyes should be at the bottom of the sea, because they are not worth more than that. But the brown eyes - owned by a 13-year-old girl who is about to get married - are not happy and cheerful. The brown eyes are sad as if they never found what they were looking for. But the girl knows what those brown eyes are looking for. They are looking for pure happiness and true love. The kind you only find in fairy tales and made-up stories.
The strong notes of the organ cut through the eardrums and everyone's eyes became like 1,000 kilos of extra weight on the already heavy trailer behind the dress. The priest's clear words about love and joy.
- You are now husband and wife, she hears behind the thick layer of all thoughts.
The thoughts that feel like mush in the head. It's really just a thought. A thought in two sentences. It can't be that terrible. It can't be that terrible.
Two weeks later. Two weeks as the wife of a man 18 years older. Then it's off to the honeymoon. A journey that will never be like any other. A trip where no mother keeps track of passports and plane tickets. This trip she is expected to take care of everything. Everything from money to what clothes her new husband should wear. In the freshly cleaned hotel room, a lonely girl lies crying. The tears run down the cheeks like raindrops falling from the sky. They fall from the highest peak of the sky where two empty holes are visible. Empty holes that should be filled with brown eyes. It can't be that terrible. It can't be that terrible, she said to herself. Went out to the hall and there they were. Why were they so big? His black patent leather shoes. They looked like boats to the girl's eyes. Gigantic boats.
The same empty holes that were visible on the highest peak of the sky were now also visible on the newly married girl. Back at home there will now be a party and dancing. The girl lights up and is happy, but only on the outside. On the inside there are two empty holes and when she looks up at the sky there is the same. Two empty holes. As she pushed her hand into her pocket, she felt something that she always carries with her. A small, tiny stuffed animal in the shape of a lamb. At that very moment, the girl wished she could be the little lamb. Who had no problem in the world. Which was allowed to lie in a safe girl's pocket and just enjoy.
The girl's tears are flowing, no rushing down her cheeks. Now all the bags are packed and the lease is signed. Now the man is happy. He is overjoyed. But it's not the girl. The tears wet the mother's blouse once more. Tears and screams that will never be replaced by anything else. Nothing real on earth. Only on the highest peak of the sky can one glimpse something more sad. The very sad thing is the two empty holes that should have been filled by two brown eyes. But what to do if you have no will? And what to do when even your own father does not support you? But what to do when no one understands you? Nothing answers the mother. There's nothing to do. It can't be that terrible. It can't be that terrible.
The dream of owning your own business and a happy family is blocked off in your head. Blocked off by thick warning tape. It can be difficult to follow your heart, when the heart sometimes lies broken on the ground in a thousand pieces and you don't know which one to follow. It can be difficult to follow your dreams, when the dreams are only visible as grains of gravel on the asphalt that everyone steps on. Dreams that are crushed, dreams that are destroyed and dreams that will never come back.
The little, little girl with wounds in her eyes and only pieces of heart and dreams left moves next to someone else. A man who looks like a father, but is not a father. It's a husband. And now the little, little girl's belly swells up. She is going to be a mother and the man next to her is going to be a father. It can't be that terrible. It can't be that terrible. The girl soon realizes that she will be the one to hug and comfort her child when he cries himself to sleep. No, I will never do that to my child. But my mother probably wouldn't do that either, she thinks. It wasn't both of their decisions. It was just the father's. Why should he be so unfair. He has never and never will experience any of what she is going through right now.
Strollers and baby bottles are on the to-do list along with stuffed animals and baby clothes. Towards the shop they go. Together. Like father and daughter. Or as husband and wife. With a wound on her back and a veil over her hair, she walks towards a baby store. Wounds she got when she served the porridge the wrong way. Veil because he wants it, but not because she wants it. A must from him because otherwise it will only get worse. Worse and worse with each passing minute. Worse and worse with each passing day. Cooking, cleaning and lots of other things must be perfect. Perfect according to him and it doesn't matter if she is happy with the washing up or sweeping. If he isn't, it doesn't matter.
She leaves her mark. Notes that she leaves in places and behind her when she walks. Glances and signs are sent to other women. A cry for help. A discreet distress call, so that the man doesn't see. The 18 year older man who walks side by side of her. Side by side and not letting go of her gaze. That piercing look that he only shows her. It's hard to trust someone you're so afraid of. So afraid that you walk on tiptoe all the time to never do anything wrong. So scared that you're about to pee yourself. This girl is so scared every day, every night and every second. She panics every time she sees that look. Panic that won't let go no matter what she does, no matter what she thinks and no matter what she wants. It doesn't matter, there's nothing to do. Another life ruined and another woman's life ruined. Only women and girls. Never men and boys.
The belly just keeps getting bigger and bigger. The wounds just keep getting worse and worse. On July 23, a girl is born. A girl born to a 14-year-old mother. It could have been an older sister or a younger aunt. But no, it was a mother. A mother with big holes on the inside and big scars on the outside. All because of one man. A man who has no respect for women. Nor respect for his own daughter.
- Why didn't it turn out to be a guy!? he asked the nurse.
- Yes, you, I don't really know.
There were 8 more girls and the man never had a son. After each girl his wife gave birth to, he began to doubt her. Doubt if marrying her was really the right choice. But he didn't consider that she was only 13 when they got married. He wondered why he never had a son. Amina, Maya, Lila, Noor, Rim, Zahra, Shadia and Amal.
But there was never a son. There was also no further marriage. The man gave up and ignored everything. Left a note on the table, almost the kind of note the girl left behind on the streets. The note read "How could I marry such a worthless woman like you", the hole somehow shrunk as the girl knew that now she would never have to see the unpleasant man again. There were still 2 large pairs of shoes left in the hall and in the bathroom there were still perfumes that had been his. She threw it all at once, never wanting to see it again and never smell him again.
The girl with 8 daughters was named Fatima. The name Fatima means "young woman" and that's exactly what she was. Fatima never got to grow up. She became a bride before she had fully lived the role of a child. Child not bride!
The smell of fire and the scent of perfume stank at the back of the yard where she lived. Fatima and her 8 daughters buried all memories of their horrible father and her horrible husband."