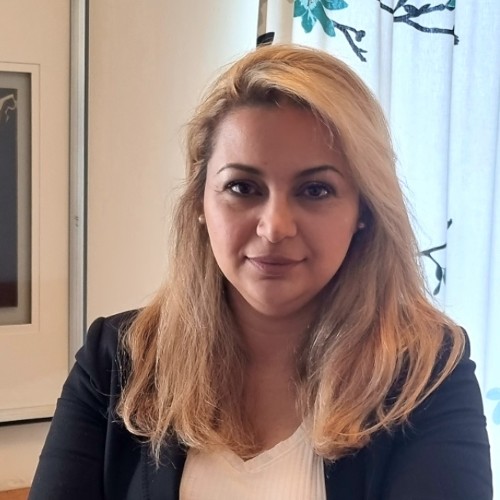 2022-04-24
Zonta scholarship holder with a heart for entrepreneurship
At the end of 2021, Golzar Daneshzad received a happy news: Zonta's District 21, Sweden and Latvia, had appointed her as a JMK scholarship holder, recommended by Kalmar Zonta Club.
Golzar Daneshzad was born in Iran and came here a couple of years ago with his family. She worked for many years in Iran with marketing and translations for a number of companies, including Swedish Scania. Today, Golzar studies in Kalmar at Linnaeus University's master's program in international business strategy (IBS in English). She expects to have her master's degree in 2022.
The JMK scholarship was instituted in 1998 against the background of the too weak representation of women in business life. It is intended for women who study economics or financial management at university/college and are at least in year three of their undergraduate education or at master's level.
- I was happy both for myself and for other women when I received the prestigious scholarship from Zonta International, an organization I did not know about, says Golzar. Anki Koch-Schmidt, zonta and professor at Linnaeus University, got in touch. One of her friends had discovered me through her network. Early in the fall of 2021, I became one of three applicants. Receiving JMK makes one feel appreciated and seen in a positive way.
Anki Koch-Schmidt was hooked on Golzar's focus on helping entrepreneurs develop their business. Part of Golzar's economics education was to practice on Kalmar-based The English Classroom. There she further developed the company's platform for teachers of English:
- The English Classroom, which I found through my network, is a small company with international customers. There are many professional English teachers who occasionally cannot leave their homes to teach. It is about people who have and look after children or who suffer from physical obstacles. The platform, which is digital, helps them to still run their business so that they continue to have an income. The customers who use the platform are in different countries, for example in Sweden and Iran.
Golzar Daneshzad also has ideas for Zonta International:
- Zonta International has the potential to reach out with its scholarships to many more women than today, for example all those studying economics and entrepreneurship at various universities and colleges. You must become more visible!
- It is expensive to study at the university level, says Golzar, but the scholarship sum at least covered a certain part of the cost. Now I look forward to adding Zonta's diploma to my resume. I will use my master's degree and my knowledge in international entrepreneurship.
TEXT: Malin Engstedt, Stockholm's Zonta Club VI
Jane M. Klausman —
Women in Business Scholarship
Who can apply?
Women enrolled in a business program specializing primarily in finance, financial management, business management, business technology, information technology, marketing, human resource management, international business operations, or entrepreneurship at an accredited university or college. At the time of application to the local zonta club, applicants must be enrolled in the penultimate year of their master's education. Applicants must attend the University when the scholarship is paid and not be examined before April 2023. Applicants must strive for a leading position in business and society and have good academic results. Furthermore, live or study in Sweden or Latvia at the time of application.
How to apply?
The application is downloaded from Zonta International's website zonta.org and submitted to the nearest Zonta club. Here you will find a Zonta club in your area.
The application deadline varies in the clubs, but is usually in the spring.
The district should have the clubs' applications before August 15.
The district will select the top two applicants and forward them to Zonta International before October 15 for evaluation.
Official announcement of the International Fellows in December.
Zonta International awards the $5,000 international scholarship to each of the two eligible applicants selected by the district from among the applicants. Two scholarships apply to our District 21 which is one of the largest five districts, otherwise it is one scholarship per district.
More information
Here you will find more information about the Jane M. Klausman "Women in Business Scholarship".
For questions about the scholarship, email Zonta International.